Events in year 2008:
Events in year 2007:
Events in year 2006:
Koločep, October 14 - 17 2008.
From October 14 to 17 on the Island of Kalamota (Koločep) the association president was participated in colloquium - workshop on the human rights subject, within the "European movement program on the Isle of knowledge" which performs
European movement Croatia
in cooperation with organisation
"The Issle of knowledge"
and several european organizations. On this occasion, about 30 members workgroup were formed by special system of recommendation and from all parts of Croatia, all educational levels, variety vocational areas and representatives of variety categories of citizens, but with their social or professional activities connected with human rights. This workgroup was moderated by
prof.dr.sc. Slaven Letica
, accompanied by lecturers
msgr.dr. Miljenko Aničić
and
prof.dr.sc. Ivo Banac
.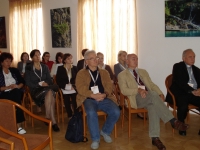 The entire program on the Isle of knowledge lasted from September 30 through October 19 with variety of themes: bussines, education, sciens and technology, healthcare, judiciary, media, human rights and local self-government. Among the many distinguished guest-lecturers there were also Vincent Degert, prof.dr.sc. Ivan Đikić,
prof.dr.sc. Andrija Hebrang
ili
academician Jakša Barbić
.
Regarding the work conception, it was not usual educational and training program. It was well premeditated socialization through the lecturers interpretation and discussion, over guided walks and introduction to island, njegovim stanovnicima, it's residents, the way of life and rich history, experience exchange in relaxational environment of the natural beauty and silence. According to this, there exist the expectance of very high and quality results of entire activities, which will produce a single document that communicates the attitude of civil opinion-makers from various social groups about advantages and disadvantages, positive and negative sides of joining to EU, reasonable doubts and objective anticipations, in colloquial elaborated thematic, to relevant experts. Such declaration will be presented to the senior official representatives, Croatian parlament, negotiators, ministries, institutions, nongovernmental associations, media and publicity.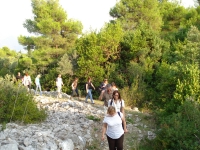 As well as the rights of children are indivisible component of human rights, we believe and hope that we've contribute with our participation, attitude and consideration to making of recommendation and conclusion of this community. Towards expansion of an idea, informing publicity and promoting the value of similar projects, for better future of Croatia and protection of rights of our, the results will be published on our web site.
ACMT, September 24. 2008.
"Fund-raising skills" is the title of convection held on september 24, where we have actively participated on ACMT (American College of Management and Technology) in organization of the Association DEŠA. "Fund raising" implied gathering funds for financing of activities of the nonprofit organizations and creating foundations, as in commercial sectors in realization projects of general benefit. Guest lecturer was Ms. Bonnie B. Helms, consultant for managing and fund raising with more than 25 years experience in both for-profit and not-for-profit management and fund raising. She holds a Bachelor of Arts degree from Smith College and a Master of Arts degree from Duke University. The lecture and discussion were held in english.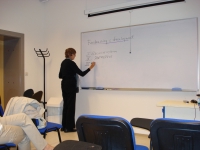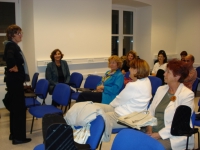 Ms. Helms has a long-standing experience with many american organizations and a lot of projects worthy several milion of dollars. She presented her definition, like she calls it "six I's" : Identification, Introduction, Information, Involvement, Investment, Inclusion. The lecture was intended to those who are interested for developing of funds from institutional donators, those who have partial knowledge at this field and those who represents commercial sector. Suggestion for fund-raising comunicate needs of organizations, firms and other users with potential donators.
After the lecture we discussed about this subject in our local community. Ms. Helms, already introduced with DEŠA's work, was very satisfied with other presented, mainteined or realised, projects and she expressed contentment with activities of civil society in Dubrovnik. She remarked the importance of continued acting and expanding knowledge and experience, because of the world civil society continuous developement as it is make great positive influence both on world economical and political progression.
Helsinki-Finlanda, September 11-14 2008.
From september 11 do 14 in Finland capital city Helsinki, we have participated in conference of European Association for Children in Hospital. Our representative was our honorary president mr.sc. Marija Radonić, who is already EACH member for herself. She applyed our association "Together to health" as a member candidate at last years Wienna conference. This year we are accepted as associated member. In respect of our long and successful colaboration with Paediatric department on promoting humanization of children medical care and promoting of the sick children rights, both in health care system and in society, accession to EACH we understand as very valuable and advanced step forward. Particularly as regards of cooperation and experience exchange, which will be helpful in our further work, in respect of 18 EACH European members, with differente health policy and differente socioeconomic status.
For full membership we have to supplement a Statute of the Association according with the EACH charter for the rights of children in hospital, translate it in English and send to EACH committee. We also need to highlight EACH charter for the rights of children at the Paediatric department of General Hospital Dubrovnik and association flyers.
European Association for Children in Hospital is an umbrella European organization who gather associations which consults, informs and supports families of sick children, promote the rights of children in hospital, among physicians and other medical staff, negotiate with executive and legislativ bodies about improvements of children status in health care and treatment conditions. Unfortunately, among the full members, there is still no Eastern-European association, while the association "Together to health" is one of the rare applicants.
Apartment in Zagrebu, July 2 2008.
We welcome our benefactors, one of the many who recognized this project's usefulness, but we particularly accent them, because they've found us. We first met mr. Bosiljko Domazet last year summer while he ran DEŠA's workshop of the Web design. While we chat about our project he offered help on apartment adaptation when we buy it. Mr. Domazet found and recommend construction company u Portal owned by U. Čaušević, which has also a good work price. Mr. Domazet also connected us with donator for furnishing apartment mr. Marinko Šoša representativ of New Apostolic Church in Republic of Croatia.
Marinko Šoša( left) and Bosiljko Domazet (right)
Donators and parents
New Apostolic Church in Republic of Croatia every single year forwards a foreign aid funds which are intended to humanitarian project across the Croatia. Mr. Šoša in front of NACiRC transfered 78.317,69 Kn on association account which is the exact amount we spent for furnishing apartment.
We welcome our donators in a joy and pleasant ambience of the new apartment and we are very thankful on their kindliness.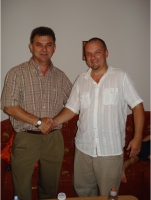 Marinko Šoša and association president
City hall, 26th May 2008
It is the title of lectures by Prof.dr.sc. Gojko Bežovan held in organisation of DEŠA and under patronage of City of Dubrovnik and National Foundation for Development of Civil Society, where we were also present in the Big Hall of City of Dubrovnik.
Professor Bežovan explained to us his results and conclusions of the research carried out in Croatia as well as some of his thoughts, along with congratulations for volunteers' work and helping other people in Dubrovnik as a noble tradition ever since 15th century and it still holds high position in comparison to other Croatian cities and districts.
So we find out that volunteers' work is very poorly represented, that most volunteers come from middle class, and that it is influenced by free time, family and membership in different associations.
And the reason why the number of volunteers is so poor is money, crisis of values, lack of culture of being a volunteer and mutual distrust of the institutions and state towards the citizens.
Furthermore, we realize that about 31% of examinees is willing to volunteer, but they don't know how and to whom, and they are ready thereto for different reasons, so there is, besides wish to help other people, also a wish to get a job, social integrating through volunteers' work and so on.
However the conclusion is that our civil society, develops in that direction and that the culture of volunteering will get accustomed as soon as possible but until then we have to restore confidence, open institutions towards citizens, create partnerships and thus open the door to volunteerism for the general welfare of community.
Uvala Lapad (Lapad bay), 24th May 2008.
On Saturday, 24th May association Together towards health took part in Dubrovnik health fair, which was held as a part of program "Connected with health", on theme "Personal health", and in organisation of City of Dubrovnik and the association "Dubrovnik – healthy city".
There were included numerous associations from Dubrovnik whose primary activity puts and accent on health, healthy food and quality of life, aswell as general in human's life and as in risky groups of diseased.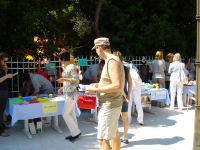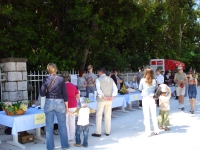 Our association represented itself on bench with materials connected to chronical diseases of children and work of the association. We handed out leaflets and hadnouts about asthma which we prepared ourselves and about celiac disease prepared by Croatian Society for Celiac Disease, magazines connected with health, handnouts about work of the association, our educational "Asthma – entartainment handouts" and "Etiquettes"(Bontončić) from "Croatian Association of Physical Disabled", and as a symbol of this activity fresh green apples.
Although we can't praise with success, for sale to help our association were offered badges with our association logo, postcards from different artists, association calendar and for symbolic prices CD from dr Tomislav Šoša. However the goal of this activity was not collecting donations and since we handed out our materials we consider this activity successful.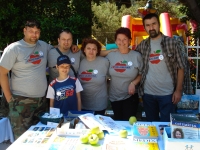 We were also guests on a radio show "Radio Cafe", and Darija i Nano were hosts on the terrace of hotel Kompas.
There was also presented an Aerobic workout, and we have been entertained by Association of youth Bonsai.
Dubrovnik associations showed with this activity great interest for presenting their own work and their goals, will for expanding the consciousness of how important the quality of life is since it is a significant factor in preserving health, as well as in environmental protection as the main predisposition for repression of certain urban milleus illnesses.
Orebić, 6th May 2008.
"Control your asthma"
is the title of this year World Day of the fight against asthma, held in Orebić, this year within the program "Connected with health" and celebration of 20th annivesary of "Croatian healthy cities network". Therefore Association Together to health visited Orebić and in co-operation with kindergarten celebrated this date in company with pre-school children in kindergarten, as well as in the rooms of local library with lectures and school of breathing for school children and parents , as well as medical workers, teachers and pre-school teachers.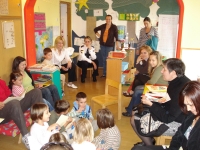 We introduced the children in kindergarten with alergies and asthma, and how to avoid asthma originator, also how we breath and where the air comes from when we blow a balloon, how to blow in spirometer, and all through the game and the story giving them at the same time balloons and asthma entertainment magazines where through children's painting magazines, labyrinths or different crossword puzzles they can learn enough for their age.
Lecture in the local library was held by mr. sc. Marija Radonić putting more emphasis on the importance of recognition of early diagnosis of asthma as the most common chronical disease in the childhood. Thus it is very important to educate medical staff in the distric clinics and the general public about it. It is important to recognize the first symptoms of allergic and to work on prevention of the disease by avoiding longer allergen exposure, and in case of early development of disease to start therapy in time in order ot control the disease successfully.
Dr. Radonic explained the principle of help and self-help in case of asthma attack and the importance of proper use of medicine stressing that the inhalation medicines are rare target drugs which by inhaling go directly into the target organs not entering into the blood circulation, and with no influence on the rest of the body.
She also emphasized the importance of continued and proper use of therapy, as well as the top regular measurements of air flow in the lungs and writing the journal in order to keep correct records of the state of illness. It is important to know that the children with successfully controlled asthma don't differ from healthy children at all and have no restrictions of activities except that they still must take account of the surrounding area without allergens and irritants.
Dr. Radonić was assisted by 2 nurses Leila Savinović and Mirjana Čustović explaining the use of inhalators and inhalation supplements as well as the dosage of therapy while the physiotherapist Helena taught children how to breathe properly and how to control breathing in case of asthma attack. Ana Kordić, head of asthma section and Roberto Machiedo, president of Association handed in to all the guests brochures and manuals about asthma, badges with the logo of Association and World Day of asthma, and to children balloons and asthma entertainment magazines.
In the break was shown a power point presentation which was prepared by the educators from the Orebić kindergarten and Sunčana Gavranić and the prnicipal of the kindergarten Sanda Menkadžiev helped a great deal in organising this, to all of us very important meeting and showed as the excellent hosts.
Although we are satisfied with the response the expected number of interested failed, most likely due to rain which is at the of the day though, missed the solar rays towards Orebić. Our meeting lasted from 15:00 to 18:30 hours, and we separated with mutual agreement that it wasn't the last and that such practice would continue in the future.
Dubrovnik, 27th March 2008.
On the agenda of the session was:
Financial report of the work of Association for the year 2007
Report on funds spent on buying and furnishing the flat
Working plan of Association for 2008
Dismissal of members of the duties of working bodies and leaders of sections
Selection of new members of working bodies of Assocation and leaders of sections
Other
Assembly was aquainted with the costs of furnishing the flat in Zagreb and it was presented what had been done so far by different reports and photos. All agreed that that job had been done successfully, and that the funds for purchase and furnishing of the flat were very well invested.
In this session Assembly dismissed former members of Association executive body and elected new, the new representatives of Association, as well as the new section leaders.
It was discussed about the methods of celebrating certain dates and about participation in the program Healthy Cities network "Connected with health" and about the health fair as part of the same thing.
It was also took into consideration the establishing of a section of other or rare diseases, whereby the Association would join the work of the capital associations in Croatia linked to any possible sub-type of disease.

On Thursday at 17.00 h, on 27th March 2008, in the Blue Room of General Hospital Dubrovnik, was held Regular election Meeting of Association Assembly.
Dubrovnik, 18th March 2008.
The opening ceremony was attended by numerous distinguished city persons, doctors and guests. The action to collect funds for the construction of playground, the first of its kind in Croatia, was organized by Mrs Marina Sršen from Beauty Center Sršen, already well known philanthropist whom this was one of many projects to help the most needed ones.
The people from Dubrovnik showed once again their sensibility when children are concirned and very quickly collected the ammount needed for the realzation of the project. Now it is time to embad the awareness oh youth and future generations of the preservation of these values, protection of environment and maintenance and preservation of the results which were with this and other humanitarian actions achieved and all for the benefit of community and children as well.

On Tuesday 18th March 2008 it was arranged the opening ceremony of newly built playground for children with special needs of association "Two Steps" .
Zagreb, Špansko 29th February 2008
On Friday 29th February we moved from the apartment in City Gualdo Tadino Street in the new partially furnished bu fully functional apartment in Špansko at Milić Miroslav 5.
There is fully equiped kitchen, bathroom, hall, dining room, living room and one sleeping room while in the coming period it is expected completing of the next 2 rooms.
In the furnishing assisted the families Kovačić and Brbora
We moved the family Brbora in the apartment who are at the end of staying with little Leona and their happy home return is expected soon.
The necessary preparatory work before furnishing had been done by , and the costs of furnishing the apartment will be refunded to Association by To all contractors and donors we came with a recommendation of and in this way we sincerely thank them for their kindness and cooperation .
Revelin, 8th December 2007
On the occasion of completion of action "Together to the apartment" and buying of the one Association organized a concert of clapas
"Thank you from the heart"
as gratitude to all those who helped us and enabled this and the entrance was free.
Unfortunately the weather was against us. And because of heavy rain and stormy south wind visit was far from expected.Despite this the song was excellent, and the guests who ran away from the rain enjoyed it. There appeared the following clapas: while the concert was held under patronage of Media sponsors of the concert were
RADIO LAUS, RADIO RAGUSA, CROATIAN RADIO DUBROVNIK, DUBROVNIK PAPER, DUBROVNIK HERALD, VOICE OF THE CITY,
and the concert was held with the technical support of
FIFI SOUND, DUBROVNIK SUMMER FESTIVAL and VSP VIDEO,
as well as help of numerous sponsors such as
Southern Cultures, Printshop, Hotel Ivka, Cake shop Ana, Pivac, Pemo-Trade, Minimarket Hladnica,DB Kantun (Corner), Jamnica, Eurobev, Breda, Tommy, Bakery Babić, Bakery Mare.
In this way we thank them all for support.
As this concert would also have a humanitarian character voluntary contributions were collected for 3 months old Leona who is in the apartment in Zagreb at the moment , getting treatment. 3.300 kunas were collected and Association added money to the amount of 4.000 kunas. The money was paid into Leona parents' account.
Zagreb, 30th October 2007
In Zagreb on 30th October 2007 was finally signed a contract about buying an apartment in the Milić Miroslav Street number 5.
After long search and many offers we found the appropriate apartment that would satisfy all our needs and possiblities of accomodation of 4 families at the same time.
The size of apartment is 76,11 m2 and it consists of entrance, living room, kitchen, bathroom with toilet, dining room, 2 bedrooms, hall, toilet, gallery and shed, while it will eventually contain 4 bedrooms.
All legal affairs connected with buying and registration of the apartment had been done "pro bono" by the lawyers Vladimir Trešćec and Nikša Valjalo from the law office Trešćec, and hereby we thank them publicly again.
In the apartment are currently held smaller modification works and furnishing and it should be ready for moving in by the end of February 2008, when we have to move out from the apartment in Sv. Duh.
Association room, 29th October 2007
On Monday 29th October 2007 was held an extra Assembly Meeting of Associaton. After the agnda was accepted Assembly aslo accepted the resignation of Mr Zoran Jović, former president of Association.
Jović addressed to the Assembly members with words of gratitude for their support during his leadership of Association and explained that he submitted his resignation for personal reasons and asked because of its character not to be talked about. In the end he wished good luck to the new working presidency with hope in greater success in future work of Association
Roberto Machiedo was elected for the new president of Association, he thanked to the members for their confidence, and he thanked especially to the former president for his devoted work in the Association in the previous years. Dr Marija Radonić addressed to Zoran with the similar words of gratitude for their long cooperation.
Assembly work continued with familiarizing the members with the status of the project "Together to the apartment", plan of humanitarian work of Association and registration of Association as a humanitarian organisation. There were also mentioned the issues of inactivity of some members of Association and it was concluded that the same will be talked about at a regular annual Assembly of Association. The priorities now are finishing the project of buying an apartment and furnishing of it by the end of the year.
Zagreb, 15th October 2007
After establishing a plan of humanitarian action and addressing a request to the Ministry of Health and Wellfare that same Ministry issued a resolution about consent for humanitarian work of Association "Together to health".
Although humanitarian acitivities have been determined by the Statute of Association since its foundation, Association was finally and officially declared as a humanitarian organisation with the consent of the Ministry and was registered as such in register of humanitarian organisations.
In this way Associaton will be able to use, by Law given privileges, for its humanitarian actions and thus will assist in the further work of Association and in helping families with sick children.
Pool in Gruž, 23rd September 2007
With third birthday concert Radio Laus celebrated its fifth birthday as so far in humanitarian astmosphere.
Funds raised in this action will support the project of Mihovil Španja and help him in his efforts of creating better conditions for disabled children who can use swimming as an excellent rehabilitation and also the possibility to achieve outstanding sports results, as he proved himself. Numerous sponsors took part in this noble action and the concert was held by clapas Ragusa, Cambi, Dalmatino, Meri Cetinić and Vinko Coce.
The members of our Association, as well as the members of other Associations, who take care of sick children had free entrance and reserved places. In this way the organizers showed who were those these noble efforts were directed to.
Sports Hall, 29th April 2007
After 100 years, Osijek HNK (Croatian National Theater) was on tour in Dubrovnik with opera "Nikola Šubić Zrinski"
Osjek Opera House raised the people of Dubrovnik on their feet!
This guest performance had a humanitarian character and the entire income goes to Association of chronically diseased children from Dubrovnik and to their action "Together to health – Together to the apartment".
The final touch to this great humanitarian action "Together to health – Together to the apartment" gave those great people from Osijek, infront almost 1300 fascinated people from Dubrovnik the Opera House from Osijek performed (on Sunday 29th April) heroic opera from Ivan Pl. Zajc "Nikola Šubić Zrinski", directed by Ivan Ivica Krajač, in the big City Sports Hall in Gospino polje.
This guest performance had a humanitarian character, and the entire income goes to Association of chronically diseased children and to their action "Together to health - Together to the apartment". Although it is not known yet the amount of money that had been collected the president of Association couldn't hide his satisfaction with the response of this action and he is convinced that the amount of money that had been collected so far will be enough to cover financial construction and buying of that indispensable apartment in Zagreb. And taking into account that this perle of croatian national herritage was performed in Dubrovrnik last time exactly 55 years ago, and people of Osijek (who this year celebrate their 100th birthday) were also guests here in the south of Croatia last time 100 years ago, then should not be wonder the response of audience of all generations, as well as the phenomenal atmosphere which culminated at the end.
On distant way the ensemble of Osijek National Opera set off in the first place thanks to the Society of "Brothers of Croatian Dragon"(Braći hrvatskog zmaja) – Dragon table in Dubrovnik, who in memory on perdition Zrinski and Frankopan (on 30th April, 1671 in Bečko Novo Mesto) decided to bring to Dubrovnik this Zajc's musical tragedy whose libretto was signed by Hugo Badalić. First time performed in November 2004 in Osijek it was nominated for Croatian Acting Award in2005, in numerous categories, and Miljenko Đuran was awarded for his role of Lovro Juranić. Scenographer was Zlako Kauzlarić-Atač, costume designer Sonja Kastl, and Deni Šesnić was in charge for light and projection.
When we talk about Dubrovnik performance a great credit equally goes to the really big ensemble, with great soloists, choir and orchestra, which was governed by maestro Mladen Tutavac.
In the main role of Nikola Šubić Zrinski, commander of Siget, the people of Dubrovnik enjoyed in performance of Mr Vlaho Ljutić, who was born in Dubrovnik and is present commissary of HNK Osijek.
He was so excited during his performance, from the protocol of reception by Dubrovnik mayoress to the reception in "Society of Croatian Dragon". Under equally positive stress was also Sanja Uroić- Ljutić, in role of Eva, Zrinski's wife. Their daughter Eva was interpreted by exquisite Vesna Baljak , who received completelly deserved the loudest support from the audience. Let's remind, this role had earlier always been played by phenomenal Valentina Fijačko, but Vesna Baljak doesn't tail her off at all. It is obvious that this role was made for her. Her partner Lovro Juranić was Nikša Radovanović. Berislav Puškarić was excellent as usual in role of Sulejman the Great, turkish emperor, and there was Damir Fatović in role of great vezir Mehmed Sokolović, who wasn't inferior to him in any way.
Considering that the ensemble of this opera house is big it is difficult to mention all of them, therefore only in brief – Osijek Opera House was more than excellent, and they deserved the thrill of the audience which they raised on their feet, and granted it with an encore, the patriotic song "U boj, u boj", what is unusal in opera and theater performances. This song had been written and composed by Ivan Zajc in 1866 and later it was inserted in his opera "Nikola Šubić Zrinski" (1876) where has been performed by male choir.
Anto Đapić, Osjek mayor, was present at the performance (this was his first official visit to this geographically far away but in many ways similar city to Osijek), as well as the member of parliament Ruža Tomašić, and numerous city and county officials.
Taken from Glas Slavonije
Narcisa Bošnjak
Gift from the city of Osijek
A day earlier the mayoress of city of Dubrovnik with her asssciates received Anto Đapić the mayor of Osijek and the commissary of HNK Osijek Vlaho Ljutić, who were guests in Dubrovnik on the occassion of performance of the opera "Nikola Šubić Zrinski".

The mayor of Osijek handed over the check to the president of Association Zoran Jović as a gift from the city of Osijek to Association.
Grad Dubrovnik
Tha mayoress expressed her gratitude to the mayor of Osijek for this donation, and the mayor Đapić invited the mayoress to visit Osijek with her associates and he suggested further cooperation between 2 cities on the cultural plan.
On the reception were present the procurator of mayoress Vedran Jelavić, the member of administration and the director of cultural and social activities Miho Katičić, the member of parliament Ruža Tomašić, the county councilor Željko Kulišić and dr Marija Radonić. The whole income from the performance of HNK Osijek is assigned for the action"Together to the apartment" in organization of Association of Chronically Diseased Children "Together to health".
Revelin, 15th April 2007
Clapa CAMBI
was once more together with You in action
"All for the apartment for chronically ill children"
with help of female clapa Cavtajke
Some weaker response from the audience didn't spoil always pleasant atmosphere of Revelin, with superb sounds of clapa songs.
We thank you all for being there especially the clapas Cambi and Cavtajke, with salute:
"See you again!"
Blue Room of the General Hospital Dubrovnik, 26th March 2007
Blue Room of the General Hospital Dubrovnik, 26th March 2007 There was held a regular annual Assembly Meeting of Association where were also present besides regular members some guests of honour and some supporting members.
The agenda was unanimously accepted and it included:
1. Election of working presidency and recording secretary
2. Report about work of Association and financial report for 2006
3. Plan of work for 2007
4. Modification of the Statute of Association
5. Election of Disciplinary Commission
6. Election of the Supervisory Board
7. Defining criterion for membership in Association
Among other things the modification of the present Statute of Association was unanimously accepted, by which certain items from the old Statute were deeper elaborated, and it (the Statute)was extanded due to extension of Association activities. At the same timethere were elected the new members of the sevral bodies of Association, arranged by the new Statute. The recommendation of book of regulations was brought into consideration, and there will be necessary certain corrections and final processing.
The Statute of Association,as well as the record (protocol) from the Assembly will be published on the web pages after notarization in the Office of the State Administration.
Revelin, 20th February 2007
"Ultimi" of carneval, the final carneval feast, happened in Revelin with the sounds of Dalmatino band, many colourful masks and at the end distribution of sponsored prizes to the best masks.
All income is intended to Association "Together to health" and with the price of ticket of 50 kunas it was collected
10000 kunas.
.
In organisation of
Mea Culpa d.o.o.
"šporki makaruli"(some sort of a cake!) and doughnuts were served to the guests, what was included in the ticket price, while the drink was served at convenient prices.
All started on the Stradun infront of St. Blaise Church with program of Association "Porporela".
This year, thirty members of the association spoke like Indians from the reservation "Falsograd" (False City).
In 15 minute program they showed all actual problems that they meet every day by living in reservation "Falsograd". Excellent masks with background effects and humour entertained all gathered visitors, what finished with burning of Carneval on Peskarija because of Its fault for all troubles in "Falsograd".
It continued in Revelin with unusual group masks, which besides standard presenting for rewards had also prepared special performances and in that was they additionally raised the atmosphere.
The party continued till late in the night, and it was certainly sussessful in humanitarian sense.
Split 14th and 15th February, 2007
In organisation of association
SANUS
from Split, 15th February International Day of children suffering of malignant diseases, for the first time officially recognized in Croatia, was celebrated with rich two-day program with guests respresentatives of all associations from all counties of our beautiful country.
Our intimacy started with selling of small appropriate gifts for Valentine's Day and everything in humanitarian purposes ("work of arts" of children and parents) and spreading the message and cry for help of all diseased children.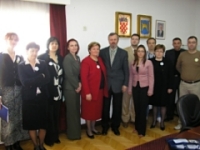 Božena Anić, the president of SANUS, organised for that occassion for the guests detour of Split, the reception of associations representatives by county ruler of Split Dalmatian County, news conference with a presentation about the plans and projects of the Association, and about the problems that parents of diseased children face every day, Round table on the same topic and shared intimacy of parents useful for exchange experience and contacts.
Planned construction project of 2 rehabilitation centers for the recovery children after therapy was presented to the Government and it is expected Its officially response, while the first news indicate that it will be fully supported.
At a Round table was discussed, with guests from the Ministry of Health and Welfare, Directorate of HZZO (Croatian Institute for Health Insurance) from Zagreb, District office of HZZO from Split, Center for Social Welfare from Split, Hematological-oncologic department of KBC Rijeka and of KBC Split, and representives and parents, about current problems related to malignant diseases of children.It was concluded that the situation was alarming, both in terms of personnel, doctors and support staff, and conditions in some centers, achievement of certain rights for parents of sick children, to the ever present problems of finance families of diseased children. All together supported the projects in the plan and agreed that the situation should be adjusted as soon as possible and to those children and parents provided dignified treatment and start questions about support to the profession, education of hematologists and ensuring of psychotherapeutic help for staff.
The intimacy with parents and doctors passed in the very pleasant and emotional atmosphere, exchanging experiences, support and encouragement and will certainly result in lovely memories and new friendships. We hope to continue these pleasant encounters in the future.
Hotel Dubrovnik President, 10th February 2007
On 10 February in organisation of Association of Construction Engineers Dubrovnik there was a traditional ball of engineers. It was held in hotel President this year, where appeared all those who live for and from engineering in our county, as well as their guests.
Apart from their mutual socializing (let the other professions look up to them!), the goal of this gathering was of a humanitarian character. And this time, as usual, humanitarian auction of the paintings of famous Dubrovnik painters and sculptors obtained excellent results. The income from the auction is aimed to our Association for already mentioned project "All for the apartment to chronically ill children".
We must give special thanks to Mr Božo Letunić , the president of the Association of Construction Engineers, for the whole organisation, to the president of marketing department Gordana Galov,as well as the head of auction program Mr Mišo Miljak, who with his proximity, witiness and above all his capability of managing of the auction led to the amount of
160.000 kunas
.
We must mention that GP (Construction Company) Obšivač, despite the participation in the auction, expressed a wish for contribution of 35 000 kunas, as a contribution in Dubrovnik Christmas Banquet, although it wasn't involved in the organisation of the same.
In the name of all members of Association and all users of the (still not existing) apartment we thank to those who took part in the auction and in that way contributed that we are very close to get an apartment in Zagreb.
Delivery of the check in the court of Association
Revelin, 27th January 2007
Zlatan Stipišić Gibonni held on 27 January in fortress of Revelin a humanitarian concert for our Association within the program of the Feast 2007.
In the conditions of full Revelin and audience in good mood, Gibo created a phenomenal atmosphere and in more than 2 hours long concert he enjoyed as well as the visitors.In an intimate relationship with the audience Gibo elicited during the concert song from our mouth, smile on out faces and tears from our eyes.
Excellent musical performance of the back band and carefully selected songs for this typeof concert made a great impression and it will remain in our memory for a long time.
Thank you Gibo, and come to us again.
In Dubrovnik, 26th January 2007 City Sports Hall
Traditional big humanitarian concert "Feast 2007", under patronage of City of Dubrovnik, Dubrovnik Neretva county, municipality of Konavle, Župa dubrovačka i Dubrovnik primorje (littoral), and in cooperation with Croatian Tourist Board and HRT (Croatian Radio Television), was held in Gospino Polje.
The income was intended for our Association and restoration of the church of St. Blaise.
The following performers participated in the program:
Ivana Banfić i Gianni Gamulin,
Zorica Kondža, Maja Vučić,
Ibrica Jusić, Đani Stipaničev,
Ivo Amulić, Kemal Monteno, Sandi,
Vlatka Pokos, Lado Leskovar,
Dražen Zečić, Feminem, Đorđi Peruzović,
DaRiva, Pero Panjković, Valetudo,
Stijepo Gleđ i Tereza.
A day earlier was arranged a collective "grličanje"("Gulleting"- to keep your gullet healthy during the year)of all participants ot the Feast and the members of Association in the church of St. Blaise which was led by don Toma Lučić and reception of the guests at the Mayor.
During the program the goal of raising funds was mentioned on several occasions and efforts of our organisation to succeed in it, while our videos were turning on the screens all the time.
We thank the organisers for everything that had been done.
Revelin, 21st January 2006
U In fortress of Revelin on 21 January turned pilot project of mutual Christmas banquet into praiseworthy action of Dubrovnik entrepreneurs.
With response at the invitation of Dubrovnik Mayoress Dubravka Šuica and with participation in organisation of mutual Christmas banquet of those entrepreneurs will be collected funds which will be directed for humanitarian purposes.
So this year , for the first time very successfully ended the action due to 400 000 kunas had been collected. That money was for Association "Together to health" for the purpose of buying an apartment in Zagreb.
In the action participated:
Vodovod (Aqueduct) Dubrovnik d.o.o.
Domouprava Dubrovnik d.o.o.
PGM Ragusa d.d.
GP(Construction Company) Dubrovnik d.d.
TZ (Tourist Board) of the City of Dubrovnik
Vulix d.o.o.
PU(Police Administration) of Dubrovnik-neretva
Dubrovnik Babin kuk d.d.
Vrtlar (Gardner) d.o.o.
Hilton Imperijal Dubrovnik d.d.
Port of Dubrovnik d.d.
Grand Hotel Park d.d.
Čistoća (Chastity) d.o.o.
- Customs Administration of Customs Office Dubrovnik
Libertas Dubrovnik d.o.o.
We can't find right words except one big THANKS, with the hope that such banquet, although the first won't be the last and that it will be organised every coming year, and collected funds direct on those to whom it is really necessary because there are many associations and organisations which take care of children, sick, elderly and infirm and they always need help.
Therefore, blessed every such praiseworthy move and thanks once again to all for the realization of the same.
In Zaton, 20th December 2006
Every year in the Home Center in Zaton Mali (Little Bay) takes place Christmas humanitarian party in organisation of the employees and children from elementary school "Orašac".

Those hardworking little children, with big heart, welcomed the visitors this year with their works, plays, recitals, songs and dance.
The children from regional school in Zaton made the sculptures from "glinamol", together with their teachers Jelkica Franičević and Vesna Vlahušić, and every year they take part in many humanitarian actions by selling their "works of art", and that's why they received in Zagreb the prize "Nipetnišest" for their humanitarian work from the association Plavi Telefon (Blue Phone).
All children from school took part in the show including regional school Zaton and Trsteno (plays, recitals, children's choir, folk group of children from lower grades with "Kontradanca" dance) with the leadership of their teachers and the teachers from Music, Sport and Croatian.
All the revenue from the sold tickets and the sculptures was donated to the Association "Together to Health" for buying of an apartment in Zagreb.

A big thank to those little angels.
In Dubrovnik, 8th December 2006
A humanitarian concert was held in Revelin as part of the program "The story of the City", and this time celebrating the memory of Dr. Tomislav Šoša. Deceased Tomislav Šoša influenced with his life and versatile engagement one somehow forgotten period of Dubrovnik. Along with his medical career which he practised as chief of surgery in clinical center Mercur, famous physician and humanist, didn't forget his first love song and music. His friends and admirers recalled the First Applause in1963 and his performance in Revelin in 2003, and his participation in HRT (Croatian Radio Television) program "Black and White in Colour".
On this occasion was presented his CD.
His friends from VIS (Vocal Instrumental Group) "Tomazopani" i "Srebrene pruge" played and sang, and in the program, in original band performed VIS "Lutke" from Zagreb, and Buco Pende and Tomislav Krkač. On this occasion they also recalled John Lennon and legendary group "Crveni koralji" (Red Corals) opened the dance.
The story of the City was prepared by Tonko Jović, produced by Brigita Masle, the patron City of Dubrovnik and organiser Camerata Ragusina.
Net income from tickets and CDs was aimed for the Association "Together to Health"and for the action "All for the apartment of chronically ill children".
We thank from the heart to the organisers for their nobility.
In Dubrovnik, 3rd December 2006
TOGETHER TO HEALTH
Association of cronically ill children
organised already traditional
HUMANITARIAN
concert of clapas in Revelin.
Beside performance of clapas:
CAVTAJKE, OTOK, MASKERON, RAGUSAVECCHIA, F.A.(folklore ensemble)
and clapa "CAMBI"
dear guests from Kaštel Kambelovac,
pleasant atmosphere,and to mutual satisfaction both the audience and performers, the concert turned into magnificent cultural and social event. LINĐO
Visitation was more than expected, and in pleasant 2 hours of concert, the visitors were delighted with performances of the clapas, while the clapas were surprised with extremely warm support from the audience.
At the end of the concert Mr Zoran Jović, the president of the Association thanked to them all, and memorial letter of thanks were handed out to the clapas for the memory of this noble act.
After the concert all reviews are more than positive, everyone is satisfied with seen and heard, clapas are pleased with support and we with result.
A special credit we owe to the
Fifi Sound
who wired and illuminated everything.
The patrons of the concert were:
CITY OF DUBROVNIK and DUBROVNIK NERETVA COUNTY
Media sponsors were:
Radio Laus, Radio Dubrovnik, Radio Ragusa, Dubrovnik television, Dubrovački List, Dubrovnik herald, Voice of the City.
                                              In this way, we thank to all of them once again, in hope that this action will continue next year too.
In Dubrovnik, 3rd and 4th November 2006
In the rooms of the General Hospital Dubrovnik was held postgraduate course (1st category):
"A CHILD IN HOSPITAL"
Humanisation of children's departments in Croatian hospitals,
within which was presented our Association and officially opened our web site.
The goal of promotion our web site infront of the reporters and the doctors was both to familiarize wider publicity with the work of our Association, with the problems of diseased children and their families,and invite them to join us in our efforts to provide as good treatment as possible.
Along with congratulations for our previous success, we got support from the present doctors for our further work.
On this occasion we presented our humanitarian action of collecting money for the apartment in Zagreb, which would use diseased children and their parents while they are on treatment and examinations there.